This post contains references to products from one or more of our advertisers. We may receive compensation when you click on links to those products.
It's holiday shopping time! And if you're like us, you're on the hunt for some last-minute buys in order to send some love to the cannabis enthusiasts in your life. That's why we've put together this holiday gift guide with a number of marijuana-related products that may pique your interest. 
Fortunately, you can get your shopping done this year without standing in line at the department store — or racing to grab the last product on the shelf. There are plenty of online stores selling marijuana products this year.
While we can't make you a batch of pot brownies or stave off political conversations at the dinner table, we can point you in the right direction when it comes to gifts online this holiday season.
The products on our holiday gift guide range from $15 to $275, giving you a number of options for stocking stuffers or bigger, under-the-tree items. We've also included different types of products, from vapes to cooking books.
Looking for a dispensary near you? Use our cannabis price comparison tool to find marijuana deals near you!
Here's the Marijuana Rates 2017 holiday gift guide:
1.
Davinci IQ Vaporizer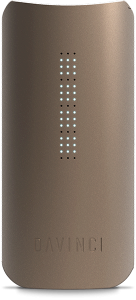 Price: $274.99
If you're in the market for a portable vaporizer, the Davinci IQ Vaporizer is worth serious consideration. This intelligent vaporizer uses a 100% ceramic zirconia air path to deliver pure flavor. With its Smart Path technology, this allows the user to select from four different temperature settings, so you can tailor your vaping sessions. It also offers bluetooth app integration.
Breakdown of features:
51 light grid display
Replaceable 18650 battery with 1.5 hours of usage time
Smart Path technology – four temperature presets
Boost mode
Standby mode
100% ceramic zirconia air path
Bluetooth app integration
---
Price: $215 (Regularly $257)
Promo: Free shipping on all orders of $15 or over. Use code "FREESHIPPING17" at checkout.
The holiday gift set from CBDistillery includes a sampling of popular products, including:
30mg Full Spectrum CBD Infused Soft Gels, 60 Count
1000mg Full Spectrum CBD Tincture
1 Gram, 99% Pure CBD Isolate Powder
CBDol Topical CBD Salve 500mg
Official CBDistillery Crystals SlapSticker
---

Price: $219.99
Have you ever tried to infuse cannabis into butter or oil? Not the easiest. But the Levo Oil Infuser takes a lot of the strain out of infusing. The device uses controlled heat to infuse oils for ointments, topical creams, balms, body scrubs and more. Plus, it's dishwasher safe for easy cleanup.
Breakdown of features:
Create Butter and herb oil infusions
Simple LED interface
Child-lock
Controlled heating
Comes with a stir stick
Comes with a magnetic material strainer
---
Price:
$7.47
If you're tired of hand-grinding your buds, this battery-powered herb grinder can make life much easier. Plus, it has a "pollen" catcher, so you won't waste any of your cannabis product.
Breakdown of features: 
Battery operated

Fast metal spin teeth 

Easy to use
---
Price: $39.94
No guide we put together would be complete without a Zippo Buddha Lighter — one of our favorites. And let's be honest, a good lighter can be your best friend, especially in social situations.
Breakdown of features:
Windproof design 

Durable metal outer case

Lighter requires fluid Fuel

Refillable for a lifetime of use; flints and wick are replaceable
---
Price: $41.97
In the market for a stocking stuffer? Pick up The Shine Bundle from VapeWorld.com. It has everything the cannabis enthusiast in your life might desire.
Breakdown of features:
24K Gold Papers
Shine 24k Gold Cone
Aerospaced Grinder
MJ Arsenal King Toke Blunt Bubbler
---
Price: $174.95
The Magical Butter Machine has been the staple in herbal infusion technology for quite some time. If you're not sold on the Levo Oil Infuser, but you're still in the market, the Magical Butter Machine should certainly make your list. And it comes with a cookbook to boot.
Breakdown of features:
7 Page Magical Butter cookbook 

Makes herbal butters, oils, tinctures, soups, sauces, salad dressings, skin care products, pet medicines and more

Digital thermostat and fully automatic, microprocessor-controlled cooking cycles for consistently predictable results
---
Price: $32.95
Every cannabis consumer needs a great herb grinder, and the Cali Crusher is top of the line. In fact, it's one of the top rated grinders on Amazon, with 200+ reviews.
Breakdown of features:
Made from Heavy Duty aircraft grade billet aluminum

Includes stainless steel screen, an o-ring, smooth threads and neodymium magnets

Comes with custom pollen scraper
---
Price: $14.97
Keeping the smell to a minimum when you stash cannabis in the house, or when you're traveling with it, can be a challenge. That's why it's nice to have an anti-order and smell-proof bag around. We dig this one from Let The Good Vibes Roll.
Breakdown of features:
Smell proof 

Made with innovative activated charcoal fabric to contain any smell within the bag

Layers of protection including a high quality canvas material and a mesh network to protect the fabric
---
Price: $18.97
Looking for some reading material on the topic of cannabis? We've got you covered with this book about understanding, medicating and cooking with cannabis. The New Yorker called it "The Martha Stewart of Marijuana Edibles."
Breakdown of features:
Knowledgeable guidance from medical marijuana experts
Evidence-based research and information
Individual chapters for cannabis recipes and remedies
Essential information for incorporating cannabis use into your life