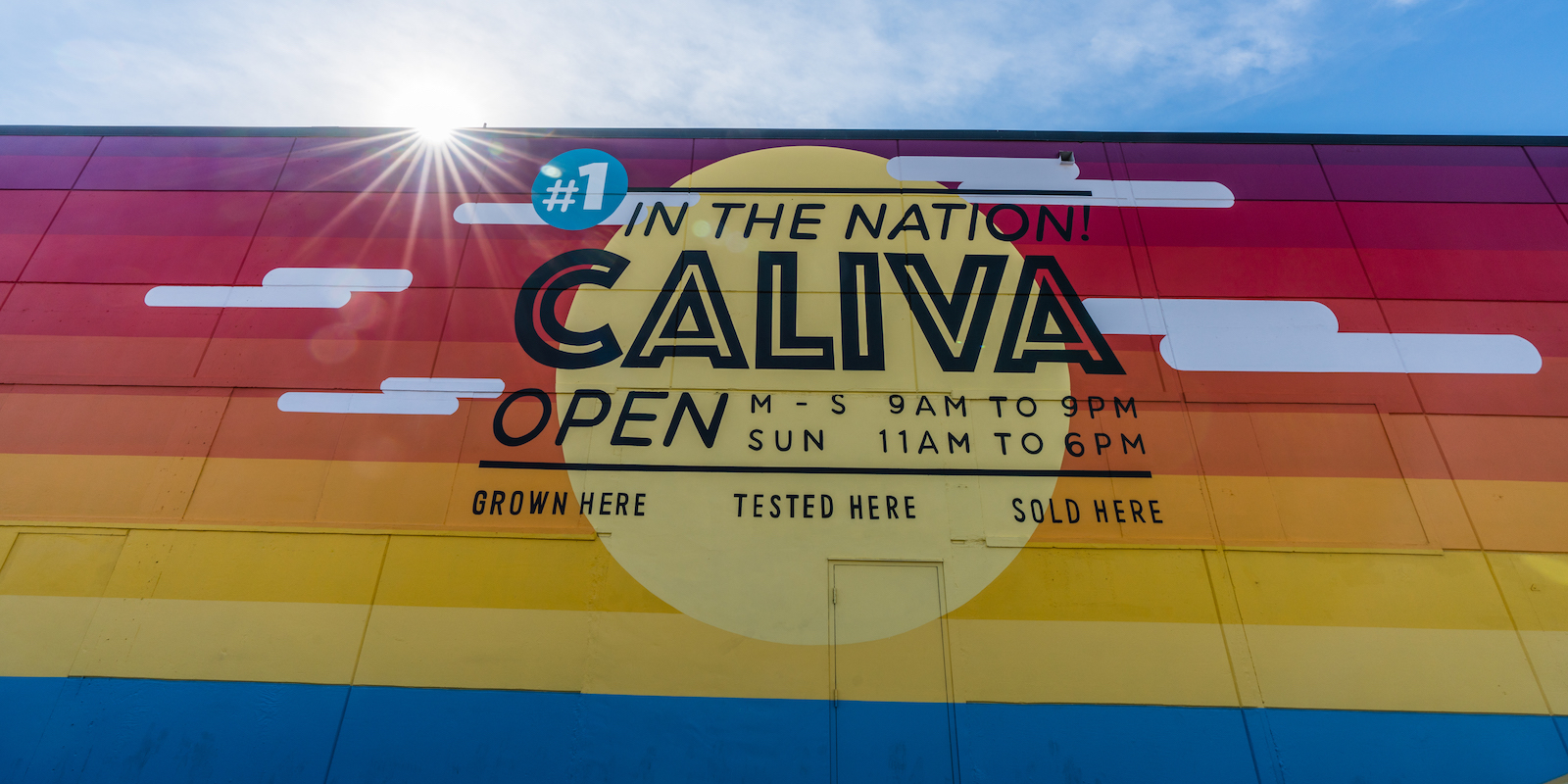 Caliva is your friendly and trusted cannabis brand. We believe in wellness options that work for your lifestyle; in boosting your spirits and seeking adventure; in motivating the mind, steadying the body and being inspired to create. A true seed to sale company; we cultivate happy plants and happy people and strive to provide you with dependable cannabis options. We were ranked #1 the nation by Business Insider and stand by our promise of consistency, transparency, and accessibility.
We distribute our products throughout the state of California. Check where to find Caliva near you here: https://www.gocaliva.com/who-is-selling-marijuana-by-caliva/

Location and purchase
Our dispensary is located at Seventh and Phelan Avenue in San Jose, in close proximity to the CEFCU stadium and Downtown San Jose. Caliva's mission is to provide the highest quality cannabis products on the market. This San Jose marijuana dispensary is fully compliant with California state law. Purchases can only be made by those who are 21+ and carrying valid government ID. This dispensary is licensed as an adult-use and medical dispensary.
You can find a range of different marijuana products at Caliva, including top-shelf buds, dabbing extracts, edibles, and pre-rolls.
Location: 1695 S. 7th St San Jose, CA (Caliva is located at Seventh and Phelan Avenue in San Jose, in close proximity to the CEFCU stadium and Downtown San Jose.)
Phone: 408-297-2615
Email: info@gocaliva.com
Website: http://www.gocaliva.com/
Delivery
Not inclined to get off your couch and live in the Bay Area? Can't make it into the store? We offer fast, easy and discreet delivery. You can order straight from your phone, track your driver's progress and have all of your favorite Caliva goodies delivered straight to your front door. Order here: https://caliva.menu/
Store and online pickup hours: 
Monday: 9am — 9 pm
Tuesday: 9am — 9 pm
Wednesday: 9am — 9 pm
Thursday: 9am — 9 pm
Friday: 9am — 9 pm
Saturday: 9am — 9 pm
Sunday: 9am — 9 pm
Free parking is offered at the storefront.
Delivery Hours: 
Monday: 9am — 10pm
Tuesday: 9am — 10pm
Wednesday: 9am — 10pm
Thursday: 9am — 10pm
Friday: 9am — 10pm
Saturday: 9am — 10pm
Sunday: 9am —  10pm
Deals
Use code "AUGUST10"
Most popular products: 
Caliva Dogwalkers
Kiva Petra Mints
Gio cartridges
Plus Sour Gummies
Butter Brands flower
Licenses
Caliva holds 11 total licenses with the state of California: cultivation, manufacturing, distribution, and retail.
Q&A with Caliva

1.Tell us a little bit about your dispensary? What sets you apart?
Our dispensary was voted the #1 dispensary in the nation by Business Insider in November of 2016 and it was an honor to receive this accolade. We started our retail space with the idea that cannabis retail doesn't have to be a stereotype. Be you a seasoned user, a brand new user, or someone just returning to cannabis after an hiatus, we have a carefully curated product array that suits the needs of any level of cannabis user.
To be very honest, our style really sets us apart. Our dispensary is more reminiscent of a spa or a high-end surf store; a lot of reclaimed wood, greenery, and warm lighting. It's pretty incredible.
2. Do you sell medical cannabis, recreational cannabis, or both?

We sell both medical and recreational cannabis.
3. What's the buying experience like for consumers at your dispensary? What should consumers expect?
They can expect to shop just like they would in any other industry. We have educated budtenders ready to help you in store, a speedy and efficient delivery team, as well as the option to dip in and just pick up an order placed online.
4. What steps do you take to educate your customers?
From in-depth educational material, to informational product videos online, our desire to inform and educate customers is never-ending. We never put a product on the shelf that the entire retail team isn't trained on. That includes the staff that runs our online chat service.
5. What payment methods do you accept?
We are cash only.
6. What are some of your most popular products? And where do your products come from?
We grow in-house and many of our most popular items come from right underneath the same roof where they're sold.
7. What accolades and/or awards have you received?
Rated #1 Dispensary in the Nation by Business Insider
Rated Best Northern California dispensary Leafly
8. What else would you like consumers to know?
We stand by our motto of Happy Plants. Happy People. We love what we do at Caliva and our goal is to be the number 1 trusted brand in cannabis!