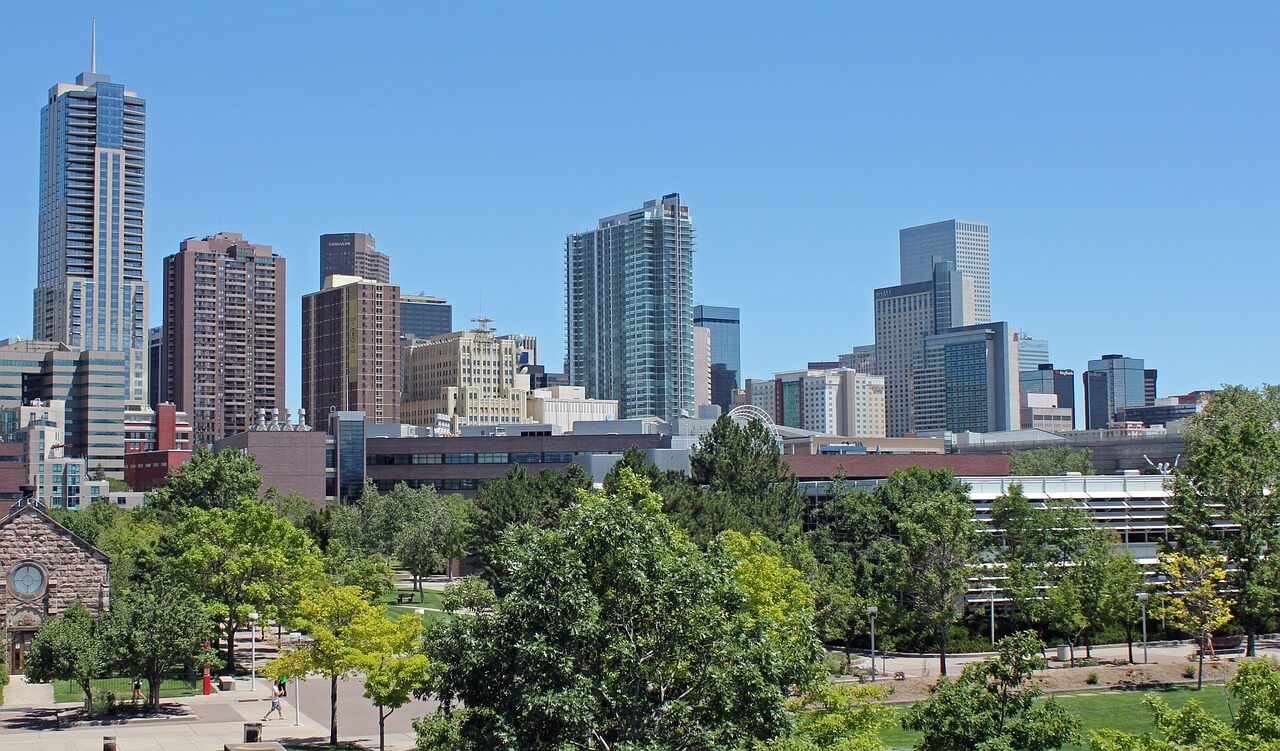 Whether you're taking a trip the Mile High City, or already call it home, you'll probably want to know where you can pick up some high-quality cannabis products at a decent price. Right now Denver marijuana prices average around $11 per gram and $162 per ounce. But those are averages. Savvy shoppers can almost always find deals for at least a few bucks less without sacrificing quality.
Marijuana prices on smaller quantities in Denver have remained fairly steady so far this year, hovering around $11 per gram. Yet bigger quantities have seen a steady drop, according to our most recent survey of dispensary prices.
This past spring, you would have paid nearly $250 per ounce on average. That dropped down to $164 during summer. Now you can find a full ounce, on average, for about $90 less.
Still, it's crucial to comparison shop. Not only can comparison shopping help you save cash on your favorite strains, but it can help you locate quality dispensaries you may otherwise not have known about.
You can use our marijuana price comparison tool to find the best Denver marijuana prices or deals in your area of the nation.
Average Denver Marijuana Prices

| Amount | Average |
| --- | --- |
| Gram | $11 |
| Eighth | $31 |
| Fourth | $55 |
| Half | $95 |
| Ounce | $162 |
Here's where you'll find the best Denver marijuana prices: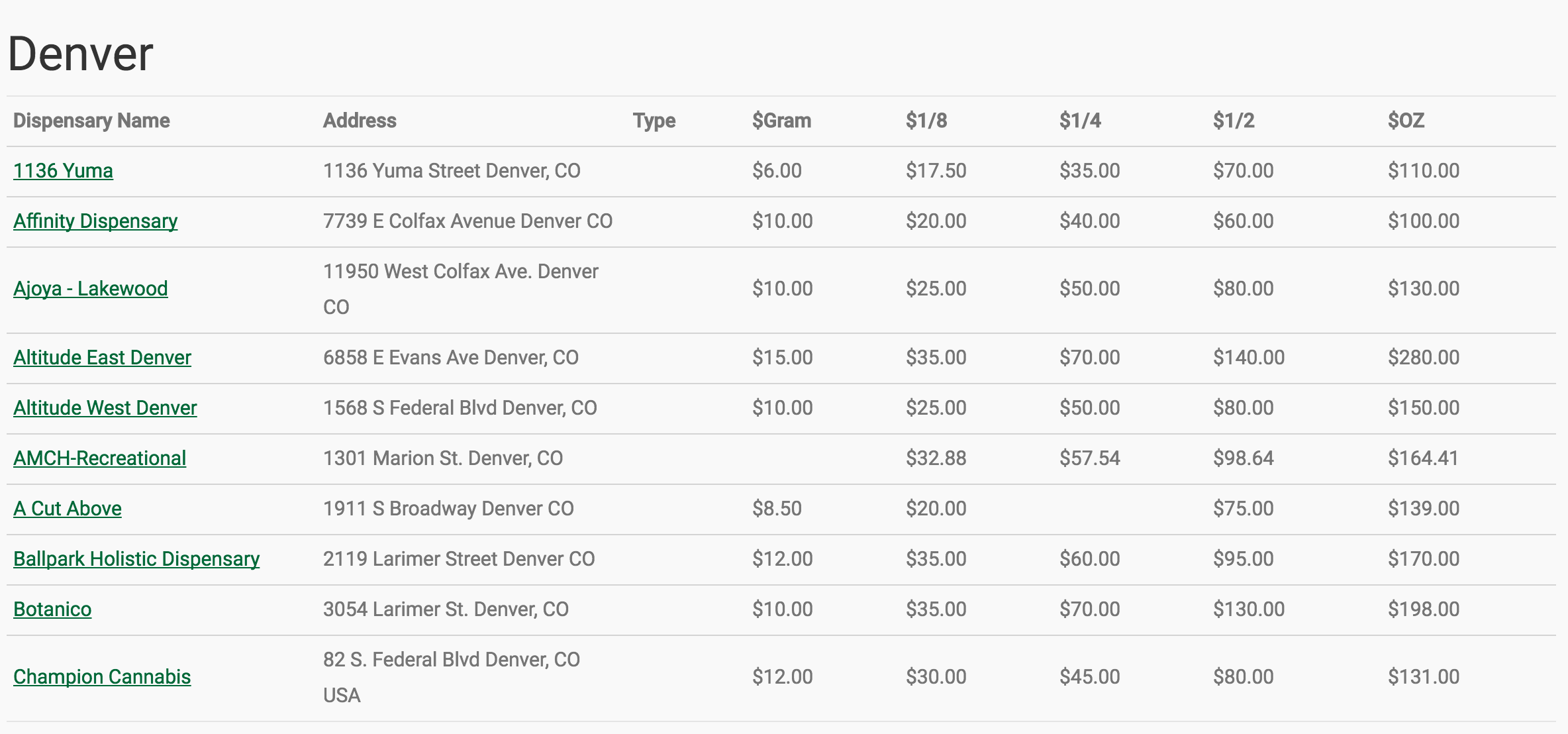 1136 Yuma, a medical marijuana dispensary, currently offers some of the best deals on a gram in the Denver area. It has a gram for an average of just $6. That's $5 less than average.
A Cut Above is also offering some great deals. It has a gram for an average of just $8.50.
Of course, marijuana prices are similar in lower quantities. It's when you start buying higher quantities that you'll really see some savings.
1136 Yuma also has great deals on ounces. It's offering ounces for an average of $110, or $52 less than average.
A Cut Above has an ounce for an average of just $139, or $23 less than average.
Those may not seem like huge price differences, but comparison shopping can save you plenty of cash over the long-run on cannabis in your area.
We think it'll be difficult to find a better deal elsewhere in Denver. But we encourage you to shop around and report back. Leave a comment on this post and give us, and other recreational users and patients, the details.
Comparison Shopping
Keep in mind that shopping for the best deal is crucial. If you go through an ounce a month in Denver, you'll spend nearly $2,000 per year on average. But comparison shopping can save you around $650 per year.
You can use our search tool to find deals in your area of the nation.
Flowers differ
Remember, not all marijuana products are created equal. Growers have different methods. And a particular strain or product at one dispensary might be more enjoyable than the same strain or product at another dispensary.
Fortunately, there's a great way to try out different dispensaries without breaking the bank. Many dispensaries offer daily, weekly and monthly deals on certain quantities, products and strains.
In addition, don't forget that becoming a member at your favorite dispensary can save you some major cash on your favorite strains over the long-haul. Non-members pay somewhere around 10 percent or more than members at a dispensary.
Consuming cannabis
If you're a newbie, edibles may be a nice first experience. Just make sure to talk to you budtender about dosage before you try it out.
When it comes to consuming flowers, we think the vaporizers are one of the best ways to go. Not only can they be portable, but they are generally thought to be safer than other methods of consumption.
One of our favorites is the all new PAX 3
, which right now comes with free shipping.
Check out our post on the best portable vaporizers under $250 for our top picks.
Where do you shop for the best Denver marijuana prices? Tell us in the comments section!
Disclaimer: While we do our very best to guarantee that our prices are accurate and that the dispensaries listed carry these strains, prices and stock may change frequently. Check with the dispensary before making the trip.