Is marijuana legal in Canada? Yes! Canada has officially legalized marijuana, making it the first wealthy nation in the world to do so.
On June 19, 2018, the Senate approved the Cannabis Act, or Bill C-45, which means it's set to become law.
Besides Canada, only the South American nation of Uruguay has legalized marijuana for recreational purposes.
"We've just witnessed a historic vote for Canada. The end of 90 years of prohibition," Sen. Tony Dean, one of the bill's sponsors, told the CBC. "Transformative social policy, I think. A brave move on the part of the government."
One of the reasons for legalization in the country is to stifle criminals and organized crime. In addition, illegal cannabis has failed to keep cannabis out of the hands of the Canadian youth, noted the government.
Even Justin Trudeau weighed in on Twitter.
It's been too easy for our kids to get marijuana – and for criminals to reap the profits. Today, we change that. Our plan to legalize & regulate marijuana just passed the Senate. #PromiseKept

— Justin Trudeau (@JustinTrudeau) June 20, 2018
It's an exciting time, as Canada sets an example and a becomes a testing ground for legal marijuana.
And that's a boon for the U.S. Although nine states have now fully legalized marijuana, and 29 states offer a medical marijuana program, Americans haven't yet seen the government make a move to legalize cannabis across the country. With their neighbor to the north leading the way, the U.S. is one step closer to becoming a country that embraces recreational marijuana.
But it's not legal to light up just yet in Canada. The government is giving provinces and territories a two to three month transition period to prepare. That means that legalization should take place sometime in September, but there's no official date set.
In the meantime, here's what you need to know about legal marijuana in Canada:
What is now legal?
Marijuana possession, home growing and sales for adults are now all legal in Canada. The federal government will handle the licensing of producers, while provincial governments will manage things like sales, distribution and other regulations.
Who can purchase and possess?
Anyone over the age of 18 will be able to possess cannabis, as long as its less than 30 grams, or a little over an ounce.
In addition, Canadians can grow up to four marijuana plants in their home (likely producing a lot more than an ounce).
What will prices be like?
In the months leading up to legalization, Canadian cannabis prices have been falling. According to data from Statistics Canada, the average cost per gram fell by 7.7% in 2017 from a year prior, the steepest drop in a decade.
Indeed, right now in Toronto you'll only pay about $11 U.S. on average for a gram, or $252 for an ounce.
But once recreational is in full swing, marijuana prices could climb in Canada.
The bill lets provinces handle the distribution and sale of marijuana. That means that governments could manage cannabis shops, instead of private entities. And several provinces might do just that.
There are ups and downs to government-run marijuana shops. The potential for better public health and safety is the upside. The downside is that prices could be kept higher for the sake of trying to reduce overall use levels and reduce access for minors.
Of course, we'll have to wait to see how it all plays out. In the U.S., marijuana prices in states like Colorado, Oregon, California and Washington have skyrocketed before falling drastically due to oversupply. So, while prices may initially start out high in Canada, they could eventually even out.
Here's the average price per gram across Canada, in Canadian dollars, according to Statistics Canada: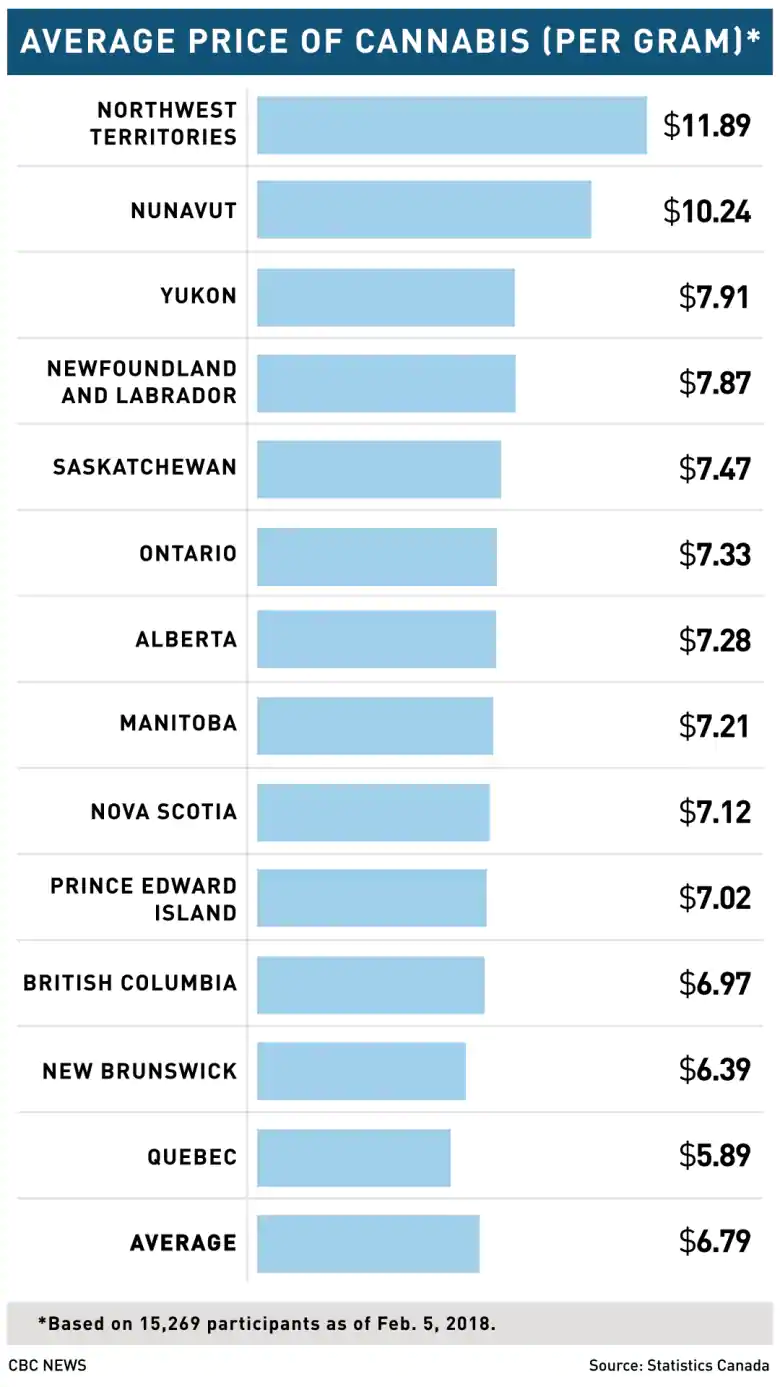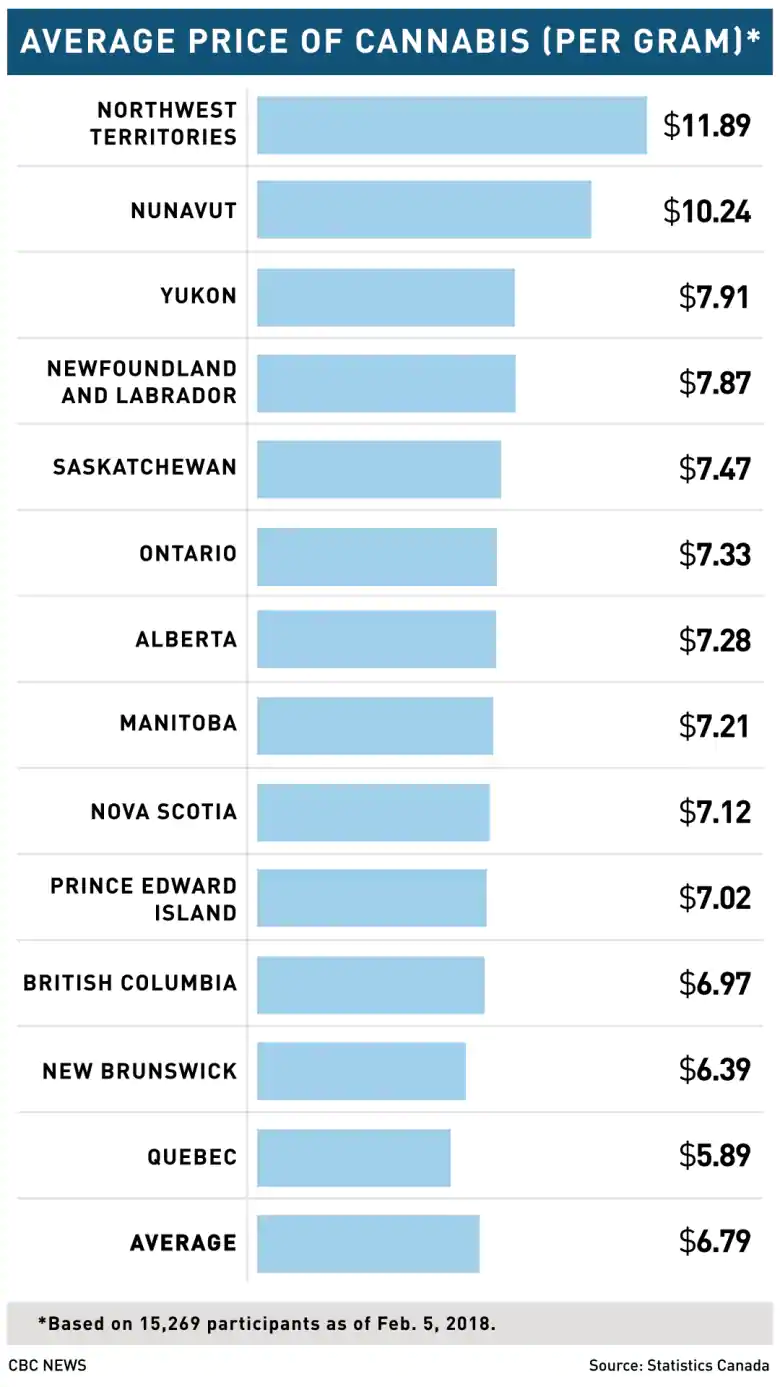 Want updates on marijuana prices, deals and news in Canada?