Recreational marijuana is now officially legal in California. And that means you're probably on the hunt for some of the best San Francisco marijuana prices and dispensaries. You can currently pick up a gram for an average of about $15. But you'll find several shops in the area offering a gram for less.
In fact, you can pick up a gram for as little as $9.
There are also some great deals on larger quantities. And remember, savvy shoppers can almost always save by shopping around.
For instance, the average for an ounce of marijuana in Las Vegas is $272. Yet some shops are offering an ounce for at least $75 less than that average.
Cannabis prices overall have been dropping in San Francisco. When California legalized recreational, taxes and a lack of supply helped push prices upward. In April, we saw prices in the area hit $315 per ounce.
But as we've seen with other states that have gone recreational — Colorado, Washington and Oregon — prices start to fall after the market evens out.
That's great news for you as a consumer.
Of course, it's still important to find a quality dispensary that you trust and that also offers great prices and deals.
You can use our cannabis comparison tool to shop for the best deals in your area.
Looking for cannabis prices in other cities throughout california? Check out our post on California marijuana prices.
Here are the average San Francisco marijuana prices: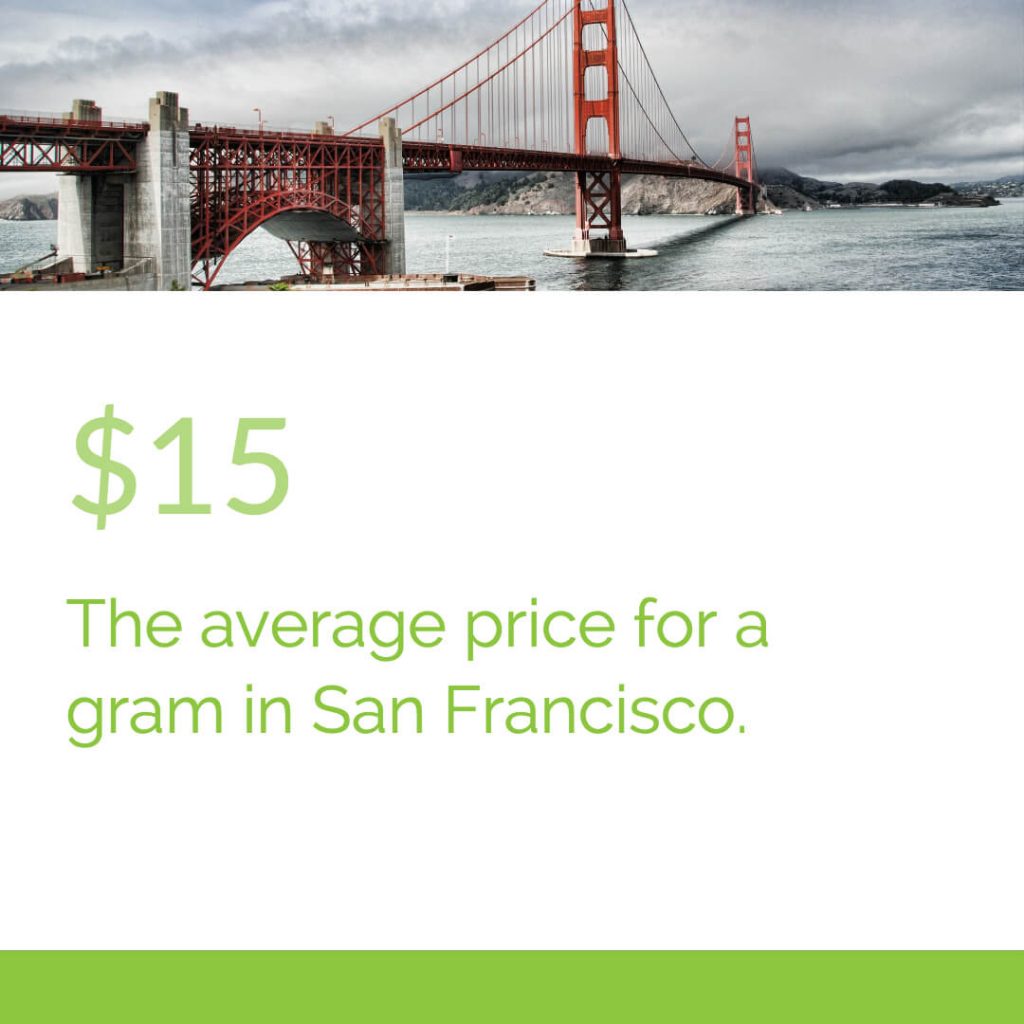 Average San Francisco Marijuana Prices

| Amount | Average Cost |
| --- | --- |
| Gram | $15 |
| Eighth | $44 |
| Quarter | $77 |
| Half | $144 |
| Ounce | $272 |
Where to shop for the best prices
BASA Collective is offering a gram for just $13, or a couple of dollars less than average.
Of course, marijuana prices are similar in lower quantities. You'll start seeing bigger savings when you get up into the higher quantities.
Kind Courier is offering a solid deal on an ounce, pricing it at $240, or $32 less than average. That's a savings of around $360 or more per year, assuming you pick up an ounce per month.
Here are a couple dispensaries offering great prices:
Choosing your dispensary
Growers will be the first to tell you that not all cannabis products are created equally. A particular strain or product at one dispensary might be more enjoyable than the same strain at another dispensary.
What should you look for? Make sure to shop at a dispensary that offers lab-tested products and buys from reputable growers. The last thing you want is to pick up a product that has been grown using pesticides or that hasn't been tested for mites. If you want more info, check out our guide on how to buy cannabis.
Fortunately, there's a great way to try out different products without breaking the bank. Many dispensaries offer daily, weekly and monthly deals on certain quantities and strains.
And don't forget that being a member at your favorite dispensary can save you some major cash on your favorite strains over the long-haul — somewhere around 10%.
Keep in mind that dispensaries quickly run out of the most popular strains. Give your local dispensary a call, or email, to see if they have a particular strain in stock before you make the trip.
Want the latest cannabis prices in your area, the hottest deals and the best brands straight to your inbox?

Methodology: MarijuanaRates surveys dispensaries in areas throughout the nation monthly. Using that data, we calculate a price average for each city and state. National averages are based on overall state averages throughout the nation. City averages are based on overall city averages through a particular state. These averages do not include taxes, which vary from state-to-state and city-to-city.
Last updated August 2018.